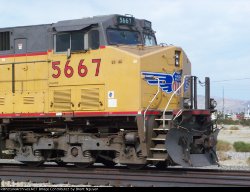 Welcome to the RRPictureArchives.NET contributor site of Brent Nguyen.

My name is Brent Nguyen and when I came to America in the 1980's, I've always heard about American trains and their size and power, so one day I decided to go trackside and watch a Union Pacific freight train roll by. The sounds, the horns, the vibrations, and the friendly crew made it all too an amazing experience that I will never forget ! Since then, I have always had a passion for trains and began what would be my career in the railroad industry. I will try to attend most Southern California railroad events or to mainly railfan at different locations throughout the state of California. However due to the nature of my job, some uploads and photos can have a substantial time gap because of my work. I primarily film the trains I catch but from time to time I will be able to get some shots of the trains I caught. I currently use the Sony Handycam FDR-AX33 for all of my videos and photos. Thanks for visiting my site ! Feel free to check out my YouTube channel where I frequently upload my train catches throughout California ! https://www.youtube.com/user/BrentNguyen46

You may browse my collection of pictures via the menu located on the left hand side of the page. I hope you enjoy the collection and thanks for stopping by!
Note: This site is best viewed in Internet Explorer 6.0 or above.
Select one of the links from the menu on the left to begin browsing the collection.